Children's Dentist – Forest Park, OH
Gentle, Comprehensive Dental Care for Young Smiles
Are you looking for a children's dentist in Forest Park, OH? If you have a child in need of dental care, you are going to need a pediatric dentist. But just any dentist won't do. A dentist who specializes in the specific needs of children is what you want. However, before you can move forward, you have some research to do because not all pediatric dentists are the same.

Why Choosing the Right Pediatric Dentist Is so Important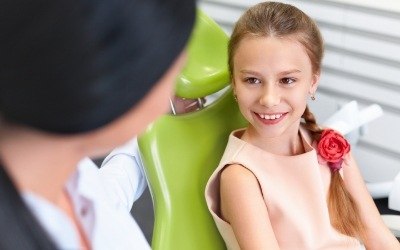 Some pediatric dentists don't have a great chair-side manner. In fact, believe it or not, some pediatric dentists don't even like kids at all. Therefore, the pediatric dentist you choose for your child's first dental appointment could shape how that child views going to the dentist for the rest of his or her life.
If you choose a pediatric dentist that loves kids and makes the experience fun and a bit of an adventure, obviously, your child won't be so hesitant to go to the dentist. However, if the dentist you choose doesn't know how to mentally and physically handle a child and how children view the world at any given age, you are going to have a problem on your hands. And it could scar your child for life.
Remember, this "stranger" (the dentist) is going to be shoving his or her fingers into your child's mouth, might have to use needles to administer a numbing anesthetic into your child's gums, and do other unpleasant things. So, if your chosen dentist doesn't know how to effectively distract your child or know how to turn these unpleasant tasks into a less frightening experience, again, you could be damaging your child for life.
How to Find a Good Pediatric Dentist in Forest Park, OH?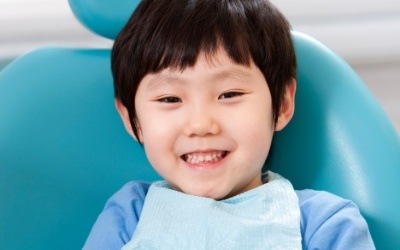 You can easily find a good pediatric dentist by performing a little research and asking the right questions.
Here are some guidelines you can follow.
What kind of education does the dentist have?
How much experience and what type of experience does the dentist have?
Is the dentist up to date on the most current dental procedures?
Is the dental office convenient to get to from your home or work?
How does the dental office staff make you feel when you contact them? Is it a pleasant experience or do they make you feel like you're just another pesky parent?
Don't be afraid to ask questions. Ask as many questions as needed until you feel confident that you have made the right choice in choosing a pediatric dentist in Forest Park.
Schedule a Pre-Appointment Meet and Greet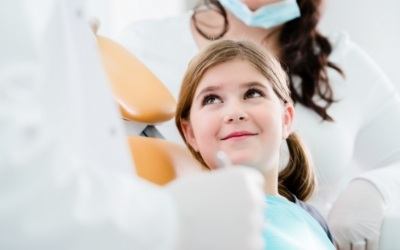 It might be beneficial to your child if you schedule a pre-appointment meet and greet. Ask the dentist if you can bring your child to the dental office before the initial appointment. This will help make your child feel more comfortable when it comes time for the actual appointment because this "place" is now somewhere that is familiar to them.
This will also allow you to experience the atmosphere in the dental office. And, you will be able to see how the staff interacts with your child and see if your child feels comfortable with the staff as well.
The Most Frequently Asked Questions about Pediatric Dentistry
Here are some of the most frequently asked questions and their answers about pediatric dentistry in Forest Park, OH.
What age should a child start seeing a pediatric dentist?
According to the American Academy of Pediatric Dentistry (AAPD), parents should begin taking their child to a pediatric dentist around the age of one or sometime within six months after the child's first tooth erupts. So, even if the child is less than one year of age when his or her first tooth erupts, you should go ahead and take him or her to the dentist.
What procedures does a pediatric dentist perform?
Surprisingly, a pediatric dentist performs a wide variety of dental procedures.
Dental cleaning and fluoride treatments
Cavity fillings
Tooth extractions
Early orthodontic care
X-Rays
Crowns
Space maintainers
Pulp treatments
Sealants
There could be additional treatments a pediatric dentist might offer; it just depends on each particular dentist.
What causes tooth decay in a child?
Tooth decay is caused by a variety of factors including plaque buildup. Plaque is caused by bacteria from consuming milk, cereal, soda, candy, fruit juices, and other carbohydrate-containing foods. Over time, the acids that form from the plaque bacteria will erode your child's tooth enamel, which, in turn, causes cavities.
What will a pediatric dentist do for a child with tooth decay?
The treatments for tooth decay depend on your child's age and overall health along with the severity of the tooth decay. However, in most cases, a pediatric dentist will remove the tooth decay and replace it will a filling.
Do pediatric dentists fill cavities in a child's baby teeth?
Yes. Your child's baby teeth need to be cared for just like a child's adult teeth. Untreated tooth decay, whether it be in baby teeth or adult teeth, can be painful and lead to other dental problems such as infections, etc.
Does a pediatric dentist perform cosmetic dentistry on children?
Yes. Cosmetic dentistry is available to children. In fact, cosmetic dentistry is extremely common in children due to sports incidents and other childhood mishaps.
How can I prevent tooth decay in my child?
Tooth decay can be easily prevented by following these steps.
Begin brushing your child's teeth as soon as you see his or her first tooth appear. Make sure you brush your child's teeth, gums, and tongue twice each day with fluoride toothpaste.
After your child reaches two years of age, floss his or her teeth daily.
Limit sugary and high-carbohydrate snacks.
To prevent the spread of bacteria, don't share utensils with your child. Additionally, don't clean your child's pacifier with your saliva.
If your child must have a bottle at bedtime, don't put anything in it but water.
Be sure to schedule routine pediatric dental cleanings and exams for your child every six months.