Teeth Whitening – Forest Park, OH
A Reliable Way to Brighten Your Smile
At Kemper Meadow Family Dentistry we offer two options for teeth whitening in Forest Park, OH: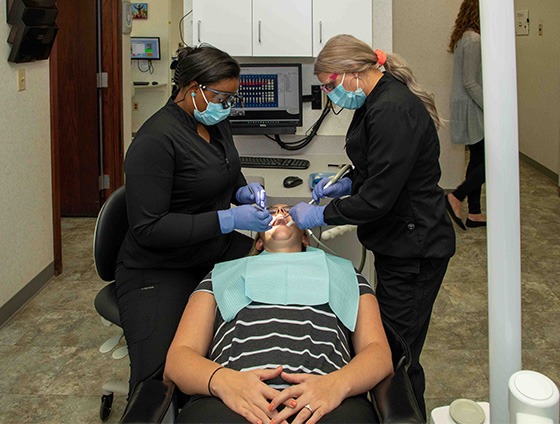 1. Teeth Whitening for Life Program:
Included in this program are custom-made bleaching trays from our trusted cosmetic dentist for at-home use. At the initial appointment, you will receive two tubes of bleaching gel. At every cleaning appointment, you will receive a free tube of bleach gel as long as you are a patient at Kemper Meadow Family Dentistry. You will continue to receive the free bleach gel as long as you do not cancel or miss any scheduled appointment without proper notice.
2. Phillips ZOOM! Teeth Whitening:
Phillips Zoom® is the fastest, easiest, and most effective whitening solution. If you want instant gratification, this is your best choice. Our in-office ZOOM! Whitening treatment includes 3, 15-minute sessions with the ZOOM! whitening bleach gel under the ZOOM! LED light. With our in-office ZOOM! Whitening we include custom take-home trays at the end of your treatment so that you can help brighten your smile after your treatment.
If you're looking for professional teeth whitening results, set up an appointment with our dentist for custom teeth whitening trays with either our Phillips ZOOM! whitening or our "Whitening for Life" Program.