Dental Implants – Forest Park, OH
The Modern Gold Standard of Tooth Replacement
If you have a tooth that cannot be restored with traditional methods or one that is missing, you may want to consider a dental implant to replace it.
If you can't keep all of your natural, healthy teeth, dental implants are the closest you're going to get. They allow you to live your life normally, letting you smile, eat, talk, laugh, kiss, and enjoy your daily activities without needing to worry about your teeth.
If you have teeth that traditional methods can't restore, or if you're missing a tooth or two, dental implants in Forest Park, OH might be your answer to replacing them.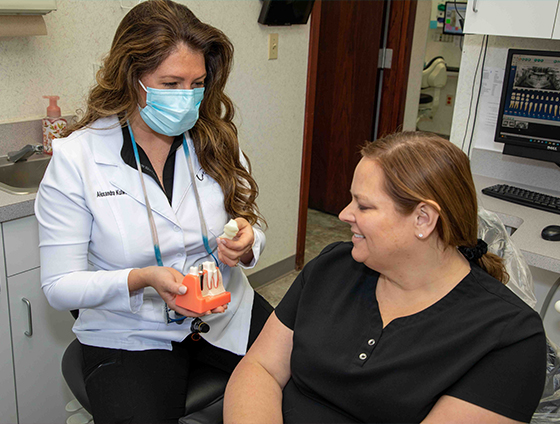 What are Dental Implants?

Dental implants can be thought of as artificial tooth roots, similar to screws in shape. When one of our dentists here at Kemper Meadow Family Dentistry places implants in your jawbone, the implants bond with the natural bone in your mouth. They become a strong, sturdy foundation to support one or more crowns (artificial teeth).
With implants, we'll place an abutment (connector) on top of your implant for holding and supporting your crowns. We custom-make your crowns to fit your mouth and match your natural teeth.
Dentistry has been utilizing modern dental implants successfully for years and years. They're the most durable devices available for supporting replacement teeth and they allow your new artificial teeth to look, function, and feel natural.
When one of our experienced and trained dental implant dentists performs dental implant surgery, it's one of the most predictable and safest procedures in dentistry.
Who Would Benefit from Dental Implants?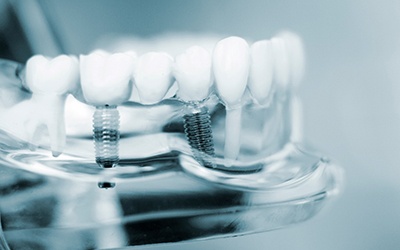 Dental implants, in general, might be ideal for you if you:
Have a full-grown jawbone
Have one or more teeth missing
Have healthy oral tissues
Don't smoke tobacco
Are unwilling to or unable to wear dentures
Have sufficient bone for securing the implants or can have a bone graft
Will make the commitment to a few months to the process
Are looking to improve your speech
Don't have medical conditions that will impact bone healing
What are the Benefits of Dental Implants in Forest Park, OH?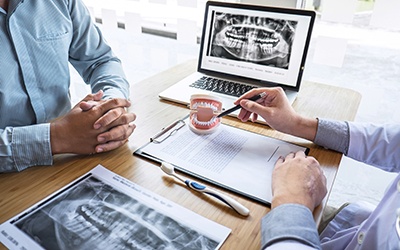 There are various benefits of dental implants, including:
Improved speech: With poorly-fitting dentures, your teeth could slip around in your mouth and cause you to slur your words or mumble. Implants allow you to speak clearly without the concern of your teeth slipping.
Enhanced appearance: Dental implants feel and look just like your natural teeth. And since they're made to fuse with bone, they're permanent.
Enhanced comfort: Since implants become a part of you, they get rid of discomfort caused by removable dentures.
Improved self-esteem: Implants provide you with a nice smile again, helping you to feel better and more confident in yourself.
Easier eating: It can be difficult to chew with sliding dentures. Implants function like your own natural teeth and therefore allow you to eat your favorite food confidently and without discomfort.
Improved oral health: Other teeth don't need to be reduced with dental implants like a tooth-supported bridge would. Since neighboring teeth aren't altered for supporting the dental implant, you have more teeth left intact which improves long-term oral health. Plus, individual dental implants allow simpler access between your teeth which also improves oral hygiene.
Convenience: With removable dentures you remove them. With dental implants, however, you won't have the embarrassing inconvenience of having to remove them or have to deal with keeping them in place with messy adhesives.
Durability: Dental implants are strong and durable and can last for years. With proper care, they could last a lifetime.
What are the Planning Stages of a Dental Implant Procedure?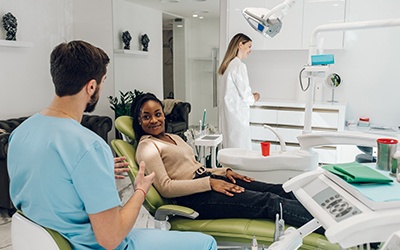 Since implants could require several surgical procedures, you will need to have a comprehensive evaluation to prepare for the entire process, which includes:
Thorough dental exam: You might require 3D images and X-rays for making models of your jaw and teeth.
Medical history review: We will ask about any health conditions and medicines you're currently taking, including over-the-counter and prescription drugs and supplements. If you have orthopedic implants or certain heart conditions, we may prescribe you antibiotics before your procedure to help prevent infection.
Plan of treatment: We'll tailor your treatment plan to your specific situation, taking various factors into account like the condition of your jawbone, how many teeth you need replaced, and your remaining teeth.
Anesthesia options: There are a few anesthesia options for controlling pain, which include sedation, local anesthesia, or general anesthesia. We'll sit down with you before your procedure and discuss each option to decide on which is best for you.
We work with a surgeon that will surgically place the dental implants in your jawbone. They'll go on to work like roots for your missing teeth. Since the implant's titanium fuses with your jawbone, it keeps the implants from making noise, causing damage and slipping like dentures or fixed bridgework might. Plus, the materials won't decay like natural teeth supporting regular bridgework can.
We will also use our 3D Cone Beam to help us digitally plan your new crown and implant.
How Do Dental Implants Work?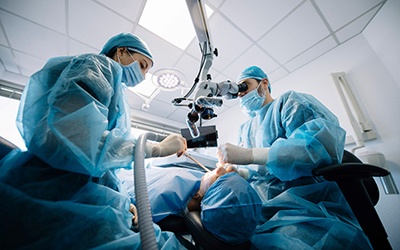 A dental implant procedure is generally an outpatient procedure performed in several stages, allowing for time to heal between procedures. There are multiple steps involved in placing a dental implant, including:
Removal of the damaged tooth or teeth
Preparing the jawbone (grafting) if needed
Placing the dental implant
Bone growth and healing
Placing the abutment
Placing the artificial tooth or teeth
The whole process could take several months from beginning to end. Most of the time will be spent healing and waiting for the new bone in your jaw to grow. The specific surgery performed or the materials used will depend on your situation and could combine certain steps.
As mentioned, we work with a surgeon for your dental implant treatment. They'll specifically and carefully place the titanium implant in your bone. The titanium dental implant will act like your natural tooth's root. After a healing period, you'll come back to our dental office so we can make teeth impressions and work with our dental laboratory to craft up your crown for your dental implant. The dental implant crown will restore the feel, look, and function of your missing tooth perfectly.
What is Good Dental Implant Aftercare?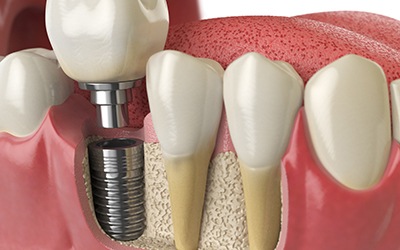 Like your natural teeth, dental implants also require regular dental visits and conscientious at-home dental oral care. To keep your dental implants clean and free of plaque, you'll need to brush and floss them like you would your natural teeth.
Following your treatment, we'll work with you closely to come up with the best aftercare plan for you. We'll schedule periodic follow-up visits to monitor your teeth, gums, and implants to ensure they're all healthy.