Invisalign – Forest Park, OH
A Clear Way to Get a Straighter Smile
Today, more and more individuals are opting for Invisalign in Forest Park, OH at Kemper Meadow Family Dentistry instead of traditional metal braces.
Just as the name sounds, Invisalign clear aligners are constructed from nearly invisible polyurethane plastic. Instead of being bonded or cemented to your teeth like clear or metal braces, you can totally remove clear aligners for things like:
Eating
Brushing and flossing your teeth
Important social occasions
How Invisalign Clear Aligners for Adults Work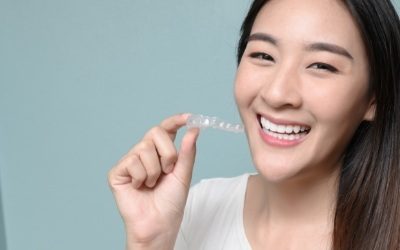 Clear Invisalign aligners, like traditional braces, are made for moving teeth gradually. Prior to treatment, we'll examine your mouth and take diagnostic records of your teeth, such as:
Photographs
X-rays
Digital scans with our Itero scanner
From the information we obtain, we'll make a diagnosis and determine if Invisalign is right for you. If so, we'll work with the aligner software, designing your new smile and planning your treatment process. The goal is to provide you with a healthy bite, so Invisalign doesn't just straighten your visible teeth; it straightens all of them — top, bottom, and back.
Keeping the end result in mind, we create a series of plastic aligners using the initial digital scans or impressions we take of your teeth as the starting point. These aligners are actually plastic replicas of your teeth. You wear them, and they add gentle pressure on your teeth, repositioning them slightly and gradually.
You should wear your aligners 22 hours a day. You'll wear each set of aligners for two weeks and then move on to the next set. As you keep switching to a new set, your teeth will reach their ideal position over time according to our plan. The total number of clear aligners you'll need will depend on your personal case. Like with traditional braces, you'll have to wear a retainer after your teeth reach their new position.
Are Invisalign Clear Aligners REcommended for Children?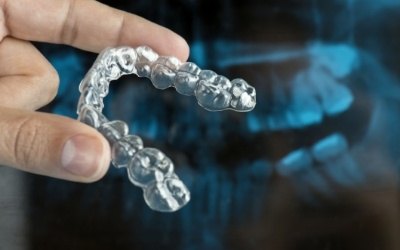 Since the clear aligners are custom-built to fit tightly, they're best for teens and adults. Trying to straighten your child's teeth can be complicated since their mouths are still developing and growing. Therefore, therefore, we'd need to carefully examine your child's mouth and see if Invisalign clear aligners for children are appropriate.
Length of Treatment with Invisalign for Adults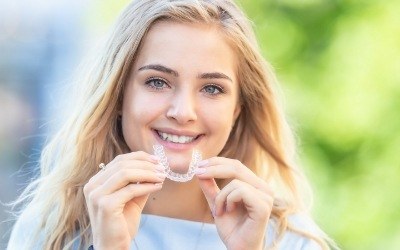 Invisible teeth aligners treatment time is based on the number of teeth you need moved. The more crooked your teeth are or off your bite is, the longer the treatment will take. Treatment generally takes between 10 to 24 months, however, if you had braces as a child and over the years, your teeth have slightly shifted, you might require Invisalign clear aligners for as little as 10 weeks.
Since the aligners aren't as exact as traditional braces, you might need a "refinement" of your teeth using braces for several months for making other, smaller adjustments after you've completed treatment.
Benefits of Invisalign in Forest Park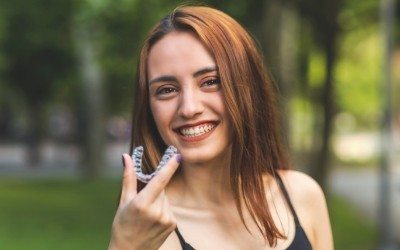 Some benefits of clear aligners are:
Quicker treatment: With bi-weekly aligner changes, you're well on your way to achieving the smile you desire quicker. Depending on how you respond to treatment, we might consider a longer period of time between each aligner change.
Better fit: The material used for clear aligners fits well, is comfortable, and is simple to put on and take off.
Proven results: The material and features are clinically proven to enhance tooth movement control with aligners
Effective: Invisalign aligners can treat a large range of teeth-straightening issues like crowding, crossbites, gapped teeth, open bites, underbites, and overbites
Convenient: Clear Invisalign aligners treatment is perfect if you have a busy schedule since you only have to visit our dental office every six weeks.
Comfortable: Clear aligner trays aren't only comfortable and smooth to wear; they're also removable, meaning you can keep doing things you normally would from eating to brushing and flossing your teeth.
A discreet look: If you're considering orthodontic treatment and believe it's a private matter or if you just don't think metal braces will help with your self-image, Invisalign clear aligners may be exactly what you need
Teeth-grinding protection: If you're struggling with a teeth-grinding habit, aligners work a lot like nightguards where they'll provide protection from excessive wear
More dietary choices: You need to make some modifications to your diet with traditional braces to protect the brackets and wires. With aligners, however, you can still bite into a crispy pizza crust or an apple with no issues
Improved oral hygiene: With a removable orthodontic appliance, you can get your teeth a lot cleaner and it's much easier to do so than if you were wearing traditional metal braces
Caring for Your Invisalign Clear Aligners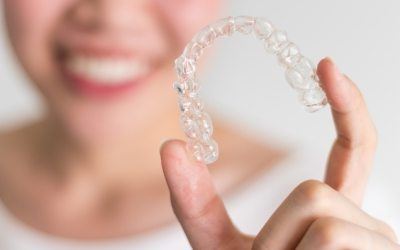 A key advantage of the aligners is you can remove the tray for easy cleaning. So, be sure you don't neglect to do this. You'll have to brush your teeth each time you eat so plaque and food won't become trapped in your aligners, promoting gum disease and tooth decay. You'll need to regularly clean your aligners as well. You simply brush them and rinse them with water.
You need to take care in regard to drinks when you're wearing your aligners. If anything but water seeps into your aligners, it comes in contact with your teeth and until you remove the aligners, it remains there. This can cause staining of your aligners and your teeth. Also, the sugar from drinks like energy drinks, soda, and fruit juices can cause you to develop cavities.
While wearing Invisalign aligners is much different than wearing braces, retaining your post-treatment results is just as important with aligners as it is with braces. Like with braces, you'll need to wear a retainer precisely how we prescribe it after you complete your treatment to protect your new beautiful smile.
Keep in mind, Invisalign clear aligners are usually worn for people with mild minor spacing issues or who have moderately crowded teeth. If you have severe spacing problems or crowding or a severe overbite, underbite or crossbite, you might require a more complex treatment.
Understanding the Cost of Invisalign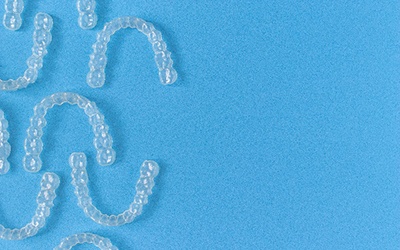 Although prospective patients are all different ages and have varying dental needs, they almost always have the same question, "How much does Invisalign cost?" It's a fair question. After all, how can you commit to treatment without knowing what the investment is? That's why we encourage patients in Forest Park to schedule a consultation with us – it's the only way we can give you an accurate answer! If you simply want to learn more general information, then you can also read on.
Factors That Affect the Cost of Invisalign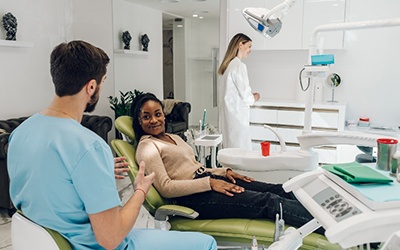 At your consultation, we will need to determine:
If one or both arches of your teeth need to be straightened
How severe your misalignment is
If rubber bands or any other orthodontic accessories are needed
How many trays are needed
Please keep in mind that these are just factors that will impact the cost of Invisalign upfront. Your compliance with the treatment guidelines, like meeting the 20-22 hour-a-day wear time or taking good care of your aligners, will also play a role in the total cost.
Invisalign vs. Smile Direct Club™: Which Costs More?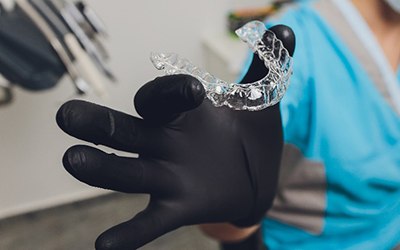 While Invisalign treatments typically start at $3,000, mail-order alternatives usually have a flat fee of around $2,000. Therefore, options like Smile Direct Club™ are almost always cheaper. However, the saying, "cheaper isn't always better" absolutely applies here, especially since several patients who have used mail-order braces have ended up with worsened misalignment and loose teeth! If you want a reliable, safe, and effective orthodontic treatment, then stick with professional services, like Invisalign.
Does Dental Insurance Cover Invisalign?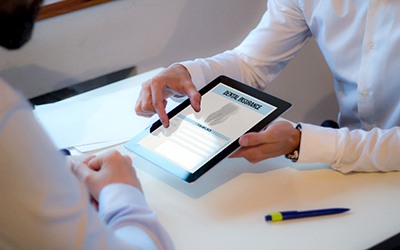 Although there isn't a one-size-fits-all answer, there are some dental insurance providers that cover a portion of the cost of Invisalign. So, if you aren't familiar with the fine print on your dental plan, it's worth giving them a call to get a better understanding of your available benefits. Our team at Kemper Meadow Family Dentistry can also help assist in the process by handling the paperwork for you, maximizing your coverage, and answering any questions you have along the way.
Options for Making Invisalign Affordable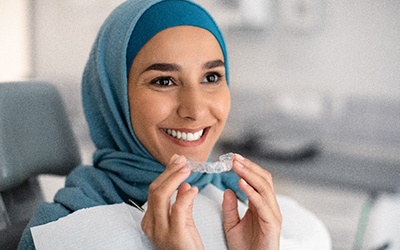 Of course, dental insurance isn't the only financial solution we offer. We know that paying for the entire cost of your care upfront can put a strain on your wallet. That's why we welcome third-party financing through CareCredit and Lending Point. With these trusted financiers, it's truly as simple as selecting the payment plan that works best with your specific budget!
Invisalign – Frequently Asked Questions & Myths
Orthodontic treatment with Invisalign clear aligners has become extremely popular over the past 10 years. As with any new treatment that offers such outstanding results, people have a lot of questions and misconceptions about Invisalign. As a long-time Invisalign provider in Forest Park, Ohio, Kemper Meadow Family Dentistry hopes this blog helps to clear up some of the confusion.
What is Invisalign?
Treatment with Invisalign consists of wearing a series of clear, customized, and removable aligners that apply pressure on your teeth to move them into the desired position.
The first step after meeting for a consultation at Kemper Meadow is for your orthodontist to create a digital treatment plan to map out the movement of your teeth. Each customized aligner applies just the right amount of pressure while still allowing you the comfort and flexibility you need. You switch one aligner for the next one in your set approximately every two weeks.
What Are the Benefits of Invisalign Compared to Traditional Metal Braces?
Patients who receive traditional braces have metal brackets and wires affixed to their teeth for the duration of the treatment period. They have no option but to remove the brackets and wires themselves and must wait for their orthodontist to remove them once they have completed treatment. The timeframe is typically two to three years. We have found that adult patients often prefer greater discretion, which Invisalign provides.
With Invisalign, you can remove your aligner to eat, brush your teeth, or whenever you need a slight break from wearing it. However, we urge you to keep each aligner in your mouth for 22 to 23 hours each day for the best and most efficient results. On average, people complete orthodontic treatment with Invisalign approximately six months sooner than with traditional braces. Just keep in mind that every patient is different, and you may not have the same results.
How Do I Care for My Aligners?
We recommend that you use the patented Invisalign cleaning system to keep your aligners clean. You can also scrub your aligners with a toothbrush and toothpaste and then run them under warm water. Be sure to avoid placing aligners under hot water since the high temperature could cause the plastic to warp.
Common Myths About Invisalign
People also believe many falsehoods they have heard about Invisalign. This is unfortunate because it can prevent them from seeking treatment.
You Need a Referral from Your Regular Dentist to See an Orthodontist
This statement is both irrelevant and untrue here at Kemper Meadow Family Dentistry, since we offer general dentistry and orthodontic services. If you feel that you could benefit from orthodontic treatment with Invisalign, just request an appointment with the next available provider.
Invisalign Will Have a Negative Impact on My Speech
It is true that you may talk with a slight lisp when fitted with your first Invisalign clear aligner. However, this issue should disappear within a few days as you become accustomed to having something in your mouth most of the day. When fitted properly using a digital scan as a guide, your aligners can actually improve the way you produce speech sounds.
Invisalign Only Works with Minor Cosmetic Problems
The members of our skilled dentistry team can correct nearly any orthodontic problem using Invisalign. We will share more information about how we plan to do this after completing your initial examination and X-rays.
Are you ready for a better smile and improved oral health? Request a consultation with our Forest Park orthodontists today to learn more about whether Invisalign is right for you.