Cosmetic Dentist – Forest Park, OH
Bringing Out Your Most Dazzling Smile
Because we know the importance of showing the world your best smile, we provide a full range of cosmetic dentistry services. Whether you need something minor such as a teeth whitening session for a special occasion or a full smile makeover, we've got you covered. Besides teeth whitening, our cosmetic dentistry services include reshaping, contouring, dental crowns, veneers, and a number of other dentistry techniques. Just ask what our skilled cosmetic dentist in Forest Park, OH can do to make your smile better.

Veneers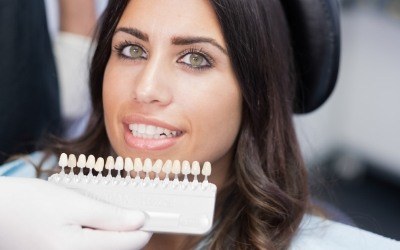 As mentioned, porcelain veneers perform much the same service as crowns except they only cover the front surface of the tooth. These are excellent for teeth that are stained to the extent that whitening treatments don't help much or are lightly chipped. Porcelain is a durable material that provides an extremely natural appearance.
Metal-Free Fillings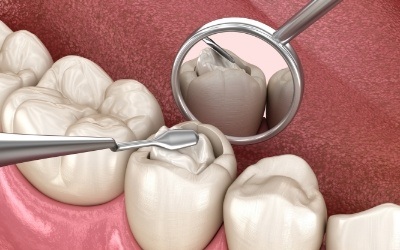 We use metal-free fillings designed to offer optimal appearance and functionality. Composite teeth fillings match the color of your teeth and are more durable than their metal counterparts. Because they bond together with your teeth tissues, they can actually cause your teeth to become stronger.
Learn More About Metal-Free Fillings
Why Is Cosmetic Dentistry Important?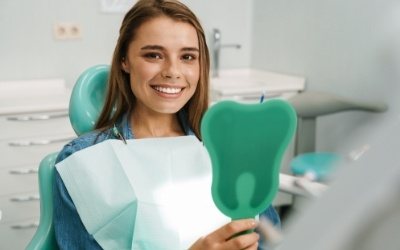 Cosmetic dentistry is important for many reasons. Cosmetic dentistry is what enables your dentist to fix your teeth after an accident leaves them broken. It's also cosmetic dentistry that fills in a gap if you should lose a permanent tooth. Cosmetic dentistry can help you gain confidence in your smile, which can help with your professional and personal relationships. In the event that you've lost a permanent tooth, this type of dentistry can even help keep your teeth in alignment. With a gap between your teeth, your remaining teeth could shift with time.
When Should You Consider Cosmetic Dentistry?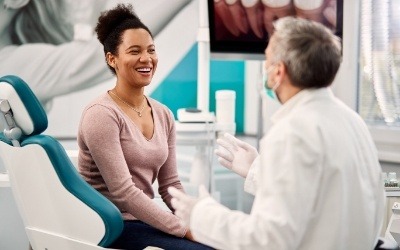 You should consider cosmetic dentistry if:
You feel self-conscious about damage to your teeth.
You're afraid to smile or show your teeth to people who don't know you.
You don't like talking to strangers for fear they may see your teeth.
Some procedures require your gums and jaw to be healthy in order to proceed, so your cosmetic dentist can tell you whether you're a good candidate for the work you'd like to be done. Make an appointment to find out today.
Cosmetic Dentistry Frequently Asked Questions
We know you have questions about some of our most popular cosmetic dentistry procedures. See below, the questions people ask most.
Does Dental insurance cover cosmetic dentistry?
Insurance does cover some types of cosmetic dentistry, depending on what the procedure is and why you need it. Don't shy away from getting the work done that you need just because you're afraid your insurance doesn't cover it. Check with your insurance company to find out whether the work you'd like to perform is covered by your plan.
You can also address your questions to your dentist, who may be able to provide guidance in your discussion with the insurance company.
Who is a good candidate for Teeth whitening?
The best way to know if you're a good candidate for tooth whitening is to speak with your dentist. The best candidates are patients who have good dental health, who brush their teeth two times daily, who floss daily, who receive regular dental checkups, and who are in good physical health. It is these patients who usually see their tooth whitening procedure last the longest.
How long does Teeth whitening last?
Tooth whitening lasts between one and two years, depending on how well you take care of your teeth, how often you get your teeth cleaned, and what your dietary habits are. Some foods stain teeth faster than others.
Does Teeth whitening work on Dental implants?
No, tooth whitening does not work on implants. This means if you get your teeth whitened and you also have an implant, your implant may no longer match your natural teeth. Teeth whitening does not work on fillings, crowns, bridges, or veneers, too.
Are there any side effects of Teeth whitening?
Following a tooth whitening procedure, your teeth may be more sensitive to hot and cold. Your gums may be more sensitive as well.
Do children ever get cosmetic dentistry?
Yes, children can get cosmetic dentistry. In fact, they commonly seek this type of service after sports accidents that leave their teeth broken or missing.
Please don't hesitate to reach out to our dental office at your convenience for more information on how we can help you and your family retain that bright, beautiful smile for many years to come.