Restorative Dentistry – Forest Park, OH
How We Repair Damaged Smiles
The enamel protecting your teeth can't repair itself if it becomes broken or decayed. Furthermore, if you lose a permanent tooth, a new one won't grow in its place. As such, if you have a knocked out or damaged tooth, you'll need a dentist's help to fix your grin and get your oral health back on track. Call Kemper Meadow Family Dentistry to learn more about the options for restorative dentistry in Forest Park, OH.

Dental Crowns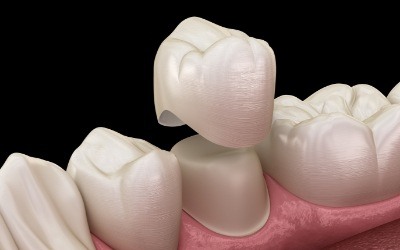 Dental Crowns are used on teeth that are severely stained or damaged to the extent that they can no longer function on their own. They are made from composite materials and can be made to match the color of the rest of your teeth so that your smile looks as natural as possible. Unlike veneer, which only covers the front surface of the tooth, crowns completely encase the entire tooth, providing optimal protection and stability.
Learn More About Dental Crowns
Dental Implants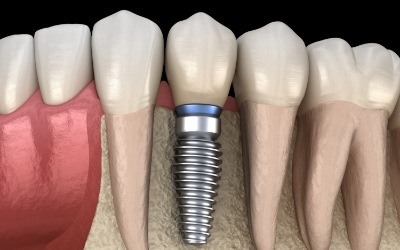 Dental implants are used to replace missing teeth or those that are so badly damaged that they can't be restored using traditional dental methods. Unlike dentures, implants don't have to be removed and cleaned at night. As their name implies, dental implants involve implanting artificial tooth roots into the bone tissue of the jaw and affixing prosthetic teeth to them, which allows them to look, function, and feel as much like real teeth as possible. Those with implants don't have to worry about them slipping or sliding around in the mouth, as can happen with some types of dentures, especially those that have not been fitted properly.
Not everyone is a good candidate for implants, but recent advances in dental technology have made them more attainable. For instance, those without adequate bone tissue in their jaw areas may now be able to get implants due to bone grafting procedures. Only your dentist will be able to tell you if this is the right option for you, however. It's also important that those who get dental implants are free of gum disease.
Learn More About Dental Implants
Dental Bridges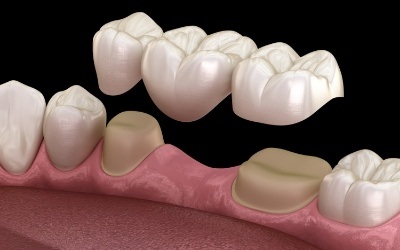 Dental bridges are used to fill gaps between one or more teeth. Besides detracting from your appearance, gaps in the teeth cause issues with chewing food, and after a period of time, they'll cause the other teeth in your mouth to shift. This wreaks havoc with facial structure, and if the alignment of your teeth becomes crooked due to shifting, it may result in bacteria buildup because crooked spaces are much harder to keep free of plaque by normal brushing and flossing.
Learn More About Dental Bridges
Tooth Extractions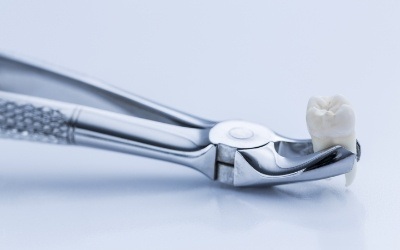 Although our goal is to promote keeping teeth healthy and strong so that tooth extractions aren't necessary, we realize that sometimes. having a tooth removed is the patient's best option. We strive to make this as painless as possible, and if a patient requires a treatment that we cannot perform in our dental office, we happily refer them to a qualified dental surgeon in the area.