Dental Crowns – Forest Park, OH
Repair and Protect Your Damaged Teeth
Dental crowns can affect anything from how you chew to how you smile, so there isn't a lot of room for error. If you're looking for dentists who can provide dental crowns in Forest Park, OH , it's crucial to find professionals who know how to properly place the dental crown so that it holds strong and looks right in your mouth. This will ensure that damage or decay does not reoccur. Call us today to find out if you are a good candidate for dental crowns and discover how they can help to improve your smile's overall function.
Why Choose Kemper Meadow Family Dentistry for Dental Crowns?
Flexible Financing is Available with CareCredit
Advanced Dental Technologies Used
Multiple Materials Used to Ensure Long-Lasting Results
Flexible Financing is Available with CareCredit
Advanced Dental Technologies Used
Multiple Materials Used to Ensure Long-Lasting Results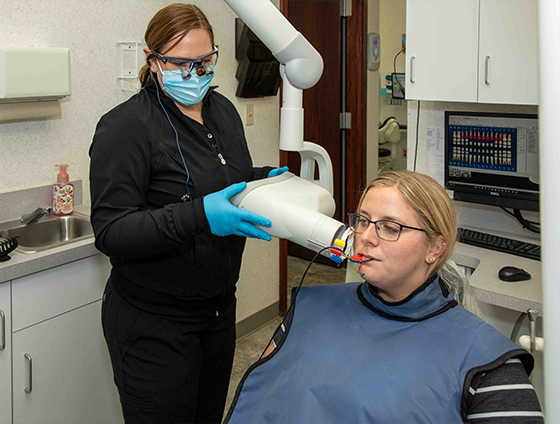 What is a Dental Crown?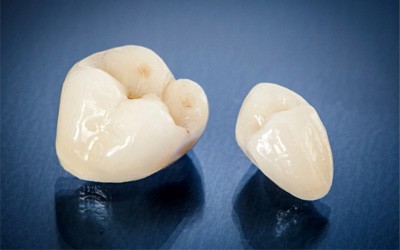 A dental crown is a cap that goes over a damaged tooth. This is different from a veneer in that it goes over the entire tooth, rather than simply covering up any visible structural abnormalities in front.
A dental crown is cemented to the tooth, meaning it's a permanent fix to the problem. They are often made from strong materials, some of which might include porcelain, ceramic, resin, or metal. If you want it to look as natural as the rest of your teeth, a dentist will likely recommend a porcelain crown, as they're well-known for simulating the look and feel of real teeth.
Do I Need Dental Crowns?
You will need to meet with your dentist to discuss your eligibility for a dental crown. This visit will involve taking digital images of your mouth as well as going over your available options for treatment. Because many different types of materials can be used to create your crown, a thorough consultation must occur before moving forward.
Some of the factors that you can expect your dentist to consider when determining if a crown is what you need are:
Whether you have a tooth that is severely damaged
Whether an existing filling is causing damage to your tooth
Whether you recently received a root canal
Whether you recently received a dental implant
Whether there are signs of dental decay that cannot be treated with a filling
The Dental Crown Process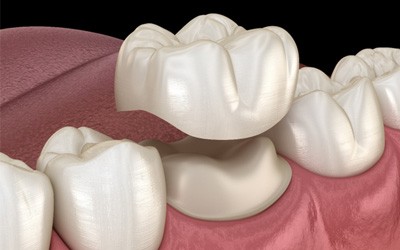 The dental crown procedure typically involves multiple visits. Before the dental crown can even be fitted, you may also need a root canal. If there's a risk of infection or injury to the pulp of the tooth, a root canal will close up any potentially hazardous vessels and remove damaged tissues.
During the first part of the dental crown procedure, the surface layer is prepared by the dentist. This typically involves filing or drilling down 1 – 2 millimeters from around the tooth to make room for the dental crown. How much is filed away depends on the material you choose. For instance, a metal dental crown is on the slimmer side, which will mean having to remove less than a porcelain crown.
Removing part of the original structure may seem a little extreme, but it's the best way to ensure only the strongest parts of the tooth remain. A dentist in Forest Park may also need to add filling to the tooth if too much of it has been damaged. Every case will be different, but as long as there's a healthy part left of the tooth, it shouldn't need to be pulled out.
Once the tooth has been reshaped, a digital impression scan will be taken of the crown preparation. Additional copies of the surrounding teeth (both above and below) will also be made to ensure the crown won't interfere with your bite. (Your bite is a little like your fingerprint as everyone will have their own individual patterns when it comes to how they move their teeth.) These impressions are sent to a lab and then used to make the actual crown. Between the first visit and the second, you'll receive a temporary crown to ensure the tooth will be protected during this time.
After the dentist has received the permanent crown from the lab, they'll verify that it matches both the color and shape of your teeth. As long as everything looks good, the dentist will remove the temporary crown and replace it with a permanent dental restoration. The cap is then fused to the tooth to take the place of the decayed portion that was removed. After the crown is cemented, it will be further adjusted to fit perfectly with your natural bite.
The Benefits of Getting a Dental Crown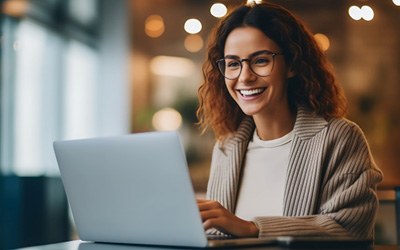 A custom dental crown will offer tremendous benefits as you conduct your day-to-day life. Not only will you enjoy using your teeth normally once again, but you can also expect that your crown will last 10-15 years as long as you commit to taking proper care of it. Also, because crowns are strong and durable, they can withstand daily wear and tear, but you'll need to be mindful of eating hard, crunchy, or chewy foods to avoid damaging them. Lastly, you'll find that with a dental crown, you can feel more confident in your appearance because of how it can easily blend in with your other teeth.