Veneers – Forest Park, OH
Dramatically Transform Your Grin
With high-quality veneers and the skill of our Forest Park, OH cosmetic dentist, we can dramatically transform your grin! In as little as three appointments, we can conceal a wide range of imperfections – from small chips to permanent stains – revealing the gorgeous smile you've been dreaming of. If you'd like to learn more about this popular smile-enhancing treatment, get in touch with our team or read on!

Why Choose Kemper Meadow Family Dentistry for Veneers?
Talented Team of Dentists
Patient Comforts That Make Every Visit Amazing!
Flexible Financing Welcome
What are Dental Veneers?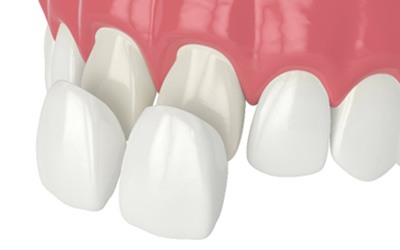 Dental veneers are thin shells of dental material (like porcelain) that cover the fronts of teeth to improve their appearance. Incredibly versatile, they can conceal a wide range of imperfections, including chipped teeth, uneven spaces, slight overcrowding, and permanent discoloration. Plus, we can apply a veneer to a single tooth or place one on several teeth. In some cases, we can apply veneers to all the visible teeth as needed. To ensure the results are as lifelike as possible, we will match the size, shape, and color of your natural teeth (or select a lighter shade to give you the bright, white smile you desire).
The Process of Getting Veneers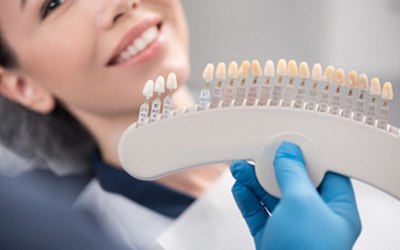 The placement of porcelain dental veneers typically requires three trips to the dentist. The first appointment involves a consultation, in which we will learn about your smile goals and determine if you're a candidate for veneers.
During the second visit, we will prepare the tooth or teeth. Then, we will remove a small amount of enamel – just about the same thickness as the veneer – to provide enough space for the veneer. Next, impressions of the tooth or teeth are taken and sent to the laboratory. If necessary, we will provide you with temporary veneers to protect your teeth.
Once we receive your veneers from the lab, which usually takes two to three weeks, you'll return to our Forest Park dental office. We will temporarily place the veneer to test its fit and color before removing or trimming the veneer as needed. Lastly, we will clean, polish, and roughen up the surface of the tooth, which creates a stronger bond between the tooth and the veneer. After the veneer is bonded and cured in place, we will make the final adjustments, and you'll be all set!
The Benefits of Veneers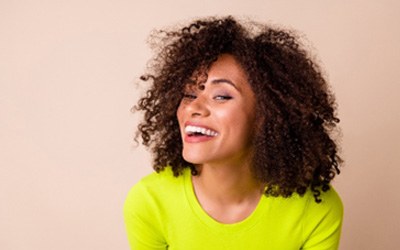 Veneers are extremely popular because they:
Can change the shape, color, length, or size of your teeth
Are tooth-colored and tooth-shaped, making them extremely natural looking
Can transform your smile in just three visits
Are durable and stain-resistant
Can last 5 to 20 years
Understanding the Cost of Veneers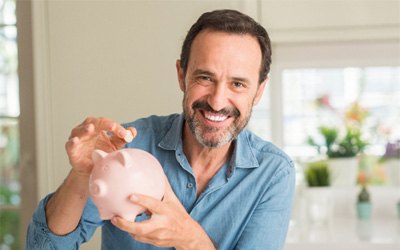 Veneers can be on the pricier side, but every cent is on display whenever you smile. Their ability to give you the teeth of your dreams is unmatched by any other procedure in dentistry.
However, we're well aware that fitting cosmetic treatments into your budget can sometimes pose a challenge, so we'll be sure to talk to you about all the payment options available to you at your consultation. Until we can see you in person, here's some information you may find useful.
Cost VS Cosmetic Dentistry: What's Right for Me?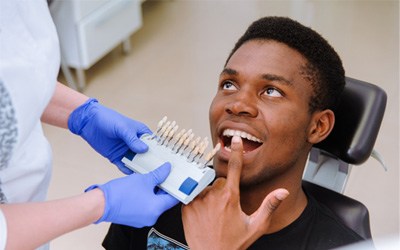 Of course, veneers are far from the only cosmetic treatment out there. We offer quite a few different procedures, each of which with its own particular use and price:
Teeth Whitening—While their use is limited, our professional teeth whitening solutions do what they do well. Within a single appointment, we can give you a smile up to eight shades whiter than it was before! In terms of price, teeth whitening is relatively inexpensive compared to other cosmetic dental treatments.
Invisalign—Invisalign aligners, like any orthodontic treatment, can be on the expensive side. But it's hard to argue with their results; these subtle plastic trays can easily correct mild to moderate misalignment.
Veneers—These do it all, brightening teeth better than teeth whitening, and straightening them faster than Invisalign. If you've ever wondered why they cost what they do, that should answer the question for you.
How to Make Veneers Affordable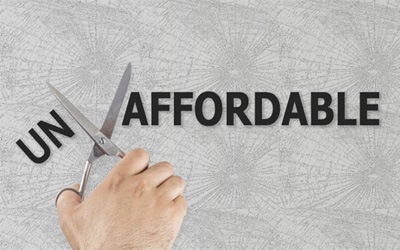 Veneers can make a drastic change in people's lives, and if you have sensitive teeth, they may also make you much more comfortable. However, most insurance companies lump them in with the rest of cosmetic dentistry and consider them to be purely elective. As a result, it's unlikely that your dental plan will cover veneers.
While we'll be happy to help you maximize your benefits, we can't make any promises about insurance coverage. Thankfully, we have other ways to make veneers affordable for you.
We partner with both CareCredit and Lending Point for financing services. If you qualify, you can break your dental fee into small, budget-friendly payments. In many cases, this is done with little-to-no interest.
If you're at all concerned about payment, we'll be happy to talk with you extensively about what kinds of financial options are available to you. That means that there's no reason to wait in chasing the smile of your dreams!
Veneers FAQs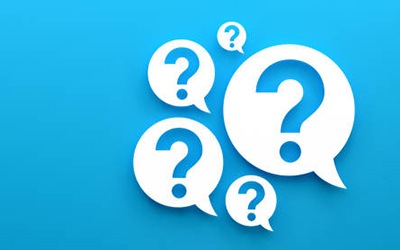 Veneers in Forest Park are a great option to turn the smile of your dreams into reality, but they are a big commitment. Don't worry if you have a few concerns because your dentist at Kemper Meadow Family Dentistry will explain everything during your consultation. While you wait for your appointment, here are the answers to the most frequently asked questions about veneers.
Are Veneers Permanent?
Veneers aren't permanent because they need to be replaced eventually, but they aren't reversible either. The application process requires a small amount of enamel to be removed to ensure your veneers are bonded well to your teeth. Your enamel will not grow back if the restorations are taken off. As a result, your teeth will always need to be covered by veneers or they will be vulnerable to damage. Thankfully, you don't have to worry about replacements often if you care for your smile correctly, like brushing and flossing.
How Many Veneers Will I Need?
Veneers can be applied to a single tooth, but the overall goal of the procedure is to enhance your entire smile. Therefore, your cosmetic dentist in Forest Park will recommend bonding them to the teeth visible when smiling. Everyone's smile is different, so there's no way to determine how many veneers you'll need until after examining your mouth. Some patients only need 4 or 6, while others may need 8 or more.
How Long Do Veneers Last?
Although veneers are thinner than ever before, they are durable. Veneers last for about 10 years before needing to be replaced, but it's not unusual for them to last for much longer. You can ensure your investment thrives by using non-abrasive dental products to brush and floss your teeth. Break any bad habits that can damage your restorations, like chewing on your fingernails or using your teeth in place of scissors. If you play sports, don't forget to wear an athletic mouthguard to protect your pearly whites. Besides caring for your smile at home, visit our office every 6 months for a cleaning and checkup.
Do Veneers Feel Natural?
You don't have to worry about veneers feeling bulky or looking unnatural. The etching process not only ensures a strong bond but also allows your veneers to flush on your teeth. You won't have any uncomfortable ridges or ledges when running your tongue over your teeth. It may take a few days to adjust to wearing your veneers, but in no time at all, you may soon forget they aren't your own.
Can I Use My Dental Insurance to Pay for Veneers?
Veneers are considered elective, so they aren't covered under most dental insurance plans unless they are medically necessary. However, your insurance may cover certain aspects of your treatment plan, like your consultation or any preliminary procedures, such as a cleaning or gum disease therapy. A member of our office will work on your behalf with your dental insurance to maximize any applicable coverage to lower the amount you will pay. If there's any remaining balance, we accept many payment options to keep a picture-perfect smile within your budget, like CareCredit.